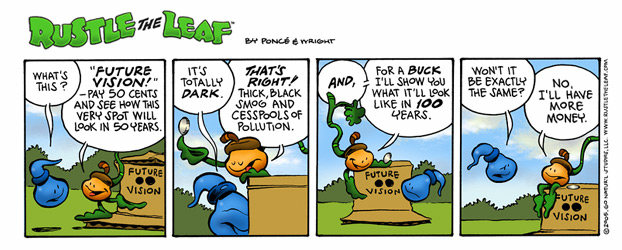 (click on the comic strip to enlarge it)
When I put up the
standby challenge
poll, Steph left an interesting comment:
My hubby who works in the electronics industry says that flourescent tubes take over 500 times the energy to start when they're boosting compared to when they're running. But as it only takes 10 secponds to 'strike' a flourescent tube, do the math ie turn it off if you'll be out the room more than an hour and a half.But he says that the switch mode power supplies on modern tellys will pop a lot faster due to inrush current if they're switched on & off at the mains, as opposed to standby. BUT our telly is 25mAH standby(so that's 25 milliamps, ie 25 thousandth's of an amp, per hour) so if our telly is on standby for 24 hours, it will use 0.138 of a killowatt a day, so that's about 1.86 pence based on 13.55 pence per unit electricity, so that's £7.12 a year for our modern telly on standby, with a class A stanbdby rating.BUT, older tellys with a higher standby current will work out more expensive. For our telly, I choose to keep it on standby, cos I don't want to shorten the life of the appliance due to the inrush spike to the power supply by turning it on at the wall multiple times a
day.
This comment gave me much food for thought and I decided to do a little more research. I Googled around a bit but didn't find anything that really supported Steph's hubby's opinion (which proves nothing, I could have been using to wrong search terms). And then I asked my friends in some environmental forums. Some people expressed the point of view that it's nonsense (or words to that effect). For example Malc said:
Personally and I am an electronics engineer I switch them off. If they're not designed to be switched on then they won't be any good in the long run anyhoo. My TV is quite old (for some values of old) and still works perfectly and most nights I switch it off, my amplifier is getting on for 20 and has taken that treatment for all its life (ok it doesn't have a standby function). Repeated switching on and off may blow some devices but not a couple or so times a day. Also somethings like monitors and TVs need to be switched on occasionally to degauss them.
[translated from Sheddese]

But Martin, who works in the alternative energy industry, had this to say:
Its all far deeper than just "b****X!" For a start, electrical engineeers have a damned good idea how long components will last, often their "life" is quoted - they can pretty accurately work out how long they'll last (built-in obsolescence). So we then consider our test telly (a modern one, designed to be on "standby") - if a few components were of a higher spec., they may well be able to last indefinitely, but they don't fit them. The way economics are balanced these days, and there is so little residual value in electronic equipment, it is often cheaper to replace the whole thing with a new one, rather than having one or two minor components replaced - a great cost to the environment! I think Chickpea hit the nail on the head - it ISN'T a simple question. I think the one thing we should agree on is that all consumer goods should be designed for longevity, repairability, and recyclability!
Thanks Martin. I can agree on that, but should I leave my TV on standby or not?